Pickle Crow Project
Project Overview
Technical Reports
Photo Gallery
Overview:
| | |
| --- | --- |
| Location: | Close to township of Pickle Lake, Ontario, Canada |
| Area: | 13,184 hectares |
| Metals: | Gold |
On November 16, 2015, First Mining Gold Corp. ("First Mining") completed the acquisition of PC Gold Inc., which wholly owned the Pickle Crow Gold Project ("Pickle Crow"). The Pickle Crow property is located in the mining friendly jurisdiction of northwestern Ontario, Canada and the project hosts a NI 43-101 compliant inferred resource of approximately 10.2 Mt grading 3.90 g/t gold containing approximately 1.3 million ounces of gold.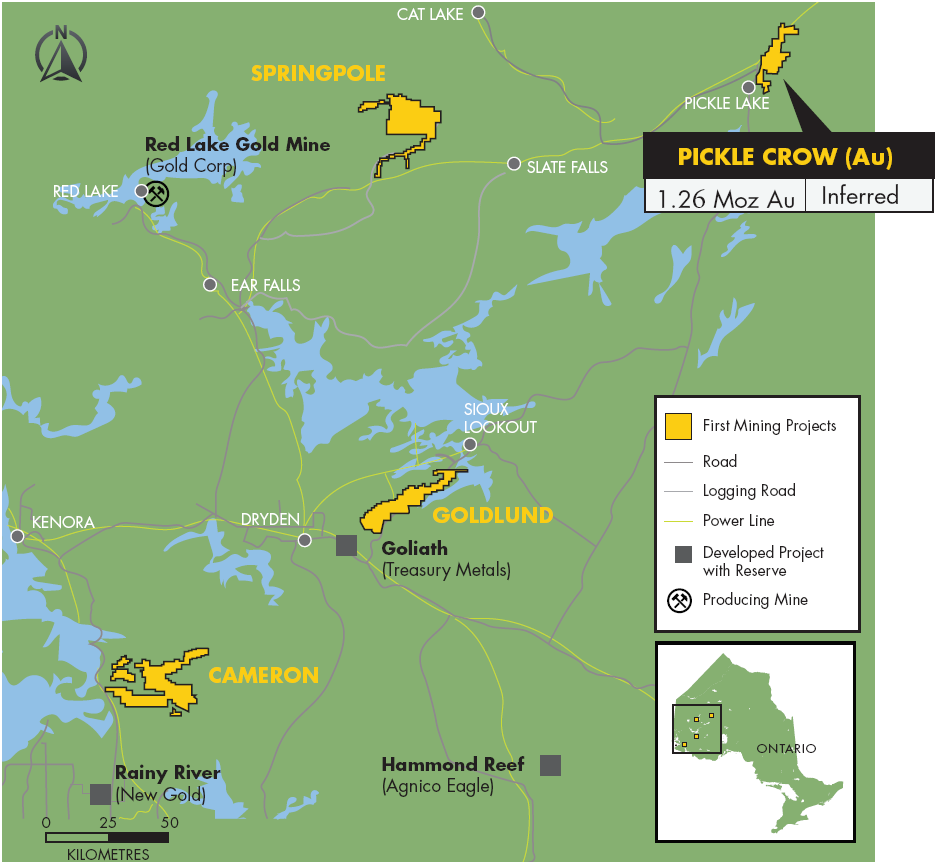 Project Highlights
Formerly a high-grade operating mine until the 1960s
High-grade underground and open pit resources:

Inferred Resource: 10.2 Mt at 3.9 g/t Au containing 1,262,000 ounces of gold

Extensive infrastructure in-place or proximal to project including:

200 tonnes per day (tpd) gravity mill onsite
Generators and fuel storage
Paved road access to property
Within 10 km of paved airport at Pickle Lake

Project is located within a pro-mining jurisdiction that is covered by the Treaty Nine First Nations Agreement
Pickle Crow Mineral Resource Estimate for Gold*
Inferred Resource

Tonnes

Diluted
Au Grade (g/t)

Cut-off
Au Grade (g/t)

Contained
Au (oz.)

Underground

6,522,000

5.4

2.25

1,136,000

Open Pit

3,628,000

1.1

0.35

126,000

Total

10,300,000

3.9

1,262,000
Notes:
1. Based on the technical report titled "A Mineral Resource Estimate for the Pickle Crow Property, Patricia Mining Division, Northwestern Ontario, Canada" dated June 2, 2011, which is available at www.sedar.com under PC Gold Inc.'s SEDAR profile.
2. The rounding of tonnes may result in apparent differences between tonnes, grade and contained ounces.
3. The long-hole bulk underground (moderate-grade) component of the mineral resource has been estimated at a cut-off grade of 2.0 g/t Au.
4. The open pit (low-grade) component of the mineral resource has been estimated at a pit discard cut-off grade of approximately 0.35 g/t Au, using a preliminary Whittle pit shell to constrain the resource estimate and other assumed pit parameters.
5. The mineral resource has been estimated using a gold price of US$1,100/oz.
6. Mineral resources that are not mineral reserves do not have demonstrated economic viability. The estimate of mineral resources may be materially affected by environmental permitting, legal, title, taxation, sociopolitical, marketing or other relevant issues.