Pickle Crow Project (30% Interest)
Project Overview
Technical Reports
Photo Gallery
Project Overview:
First Mining holds a 30% interest in the Pickle Crow Gold Project in northwestern Ontario, which is being advanced in partnership with Auteco Minerals Ltd.
The Project is located approximately 400 km north of Thunder Bay and 11 km east of the town of Pickle Lake. There is year-round, paved road access to the project, and grid power less than 5 km away. The property covers approximately 50,000 hectares of mineral tenure within a major gold province. It hosts an NI 43-101 Inferred Mineral Resource of 9.4 Mt grading 4.1 g/t gold, containing 1.23 million ounces of gold.
The Pickle Crow gold deposit is a high-grade, shear-hosted, mesothermal Archean lode gold deposit. The deposit occurs primarily within mafic volcanics and banded iron formation (BIF) units in the Pickle Crow assemblage of the Pickle Lake Greenstone belt located in the Uchi Lake Sub-province of the Superior Craton of the Canadian Shield.
Mineralization is focused around steeply north-west dipping, regional scale shear zones. Multiple mineralization styles have been identified on the property, including quartz-gold-tungsten (+/-tourmaline) shear veins and banded iron formation mineralization (BIF-style).
The Pickle Crow Mine is one of Canada's highest-grade historical gold mines. It operated from 1935 until 1966, during which time it reportedly produced around 1.5 million ounces of gold at an average grade of 16.14 g/t.
History:
On November 16, 2015, First Mining acquired the Project through its acquisition of PC Gold Inc.
On March 12, 2020, First Mining entered into a definitive earn-in agreement with Auteco Minerals Ltd ("Auteco") (ASX: AUT) whereby Auteco may earn up to an 80% interest in the First Mining's wholly-owned subsidiary PC Gold Inc., which holds the Pickle Crow Gold Project.
On June 9, 2021, Auteco completed the Stage 1 earn-in to own 51% of PC Gold Inc.
On August 30, 2021, Auteco completed the Stage 2 earn-in, increasing its current ownership to 70% of PC Gold Inc., with First Mining owning 30%.
Earn-In Details 1
Upfront Consideration (Complete)
• $100,000 cash upon signing term sheet and agreement
• 25 million shares of Auteco on signing of formal agreement
Stage 1 Earn-in (51% earn-in) (Complete)
• $5 million exploration spend
•100 million AUT shares
Stage 2 Earn-in (70% earn-in) (Complete)
• $5 million exploration spend
• $1 million cash
• 2% NSR (1% buyback for US$2.5M)
Buy-in (+10% to 80% earn-in at anytime post Stage 2)
• $ 3 million cash
Additional Terms
• JV to be created upon completion of Stage 1
• First Mining free carried to decision to mine
1 See First Mining News Release dated January 27,2020 for further details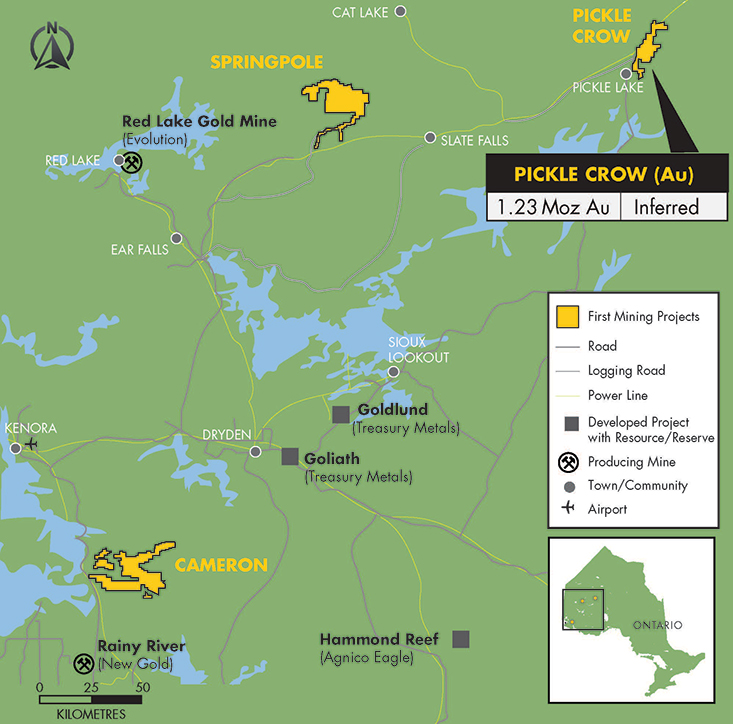 Project Highlights:
Long history of producing high-grade gold - former operating mine from 1930s to 1960s
Located in a stable Tier 1 mining jurisdiction in a prolific mineral belt
High-grade underground and open pit resources:

Inferred Resource: 9.5 Mt at 4.1 g/t Au containing 1,230,500 ounces of gold

Extensive infrastructure in-place or proximal to project including:

200 tonnes per day (tpd) gravity mill onsite
Year round access
Paved road access to property
Within 10 km of paved airport at Pickle Lake
Pickle Crow Mineral Resources
Inferred Resource

Tonnes


Au Grade (g/t)

Cut-off
Au Grade (g/t)

Contained
Au (oz)

Underground

7,565,000

4.7

2.00/ 2.60*
1,150,700

Open Pit

1,877,000

1.3

0.50

79,800

Total

9,452,000

4.1

1,230,500
* Cut-off grade for bulk underground resource is 2.00 g/t Au; cut-off grade for underground vein resource is 2.60 g/t Au
Notes:
First Mining owns 30% of the Pickle Crow Gold Project, and 70% is owned by Auteco Minerals Ltd.
Based on the technical report titled "An Updated Mineral Resource Estimate for the Pickle Crow Property, Patricia Mining Division, Northwestern Ontario, Canada" dated June 15, 2018 and available at www.sedar.com under First Mining Gold.'s SEDAR profile.
Diluted to a minimum 1.0 metre width.
The mineral resource estimate is entirely classified as an inferred mineral resource.
Mineral resources that are not mineral reserves do not have demonstrated economic viability. There is currently insufficient exploration to define these Inferred mineral resources as Indicated or Measured mineral resources.
High-grade assays have been capped. Each domain was capped with respect to their unique geology and statistics
The narrow-vein, selective underground component of the mineral resource has been estimated at a cut-off grade of 2.6 g/t Au.
The long-hole bulk underground (moderate-grade) component of the mineral resource has been estimated at a cut-off grade of 2.0 g/t Au.
The open pit (low-grade) component of the mineral resource has been estimated at a pit discard cut-off grade of approximately 0.5 g/t Au, using a preliminary Whittle pit shell to constrain the resource estimate and other assumed pit parameters.
The mineral resource has been estimated using a gold price of US$1,300/oz.