Springpole Project
Project Overview
Environmental Assessments & Permitting
Technical Reports
Video and Photo Gallery
Newsletter
Project Overview:
The Springpole Gold Project covers an area of 41,943 hectares in northwestern Ontario, and consists of 30 patented mining claims, 282 mining claims and thirteen mining leases. Additional mining claims surrounding the Project were acquired by First Mining in 2021, totaling another 9,200 hectares. The project is located approximately 110 kilometres ("km") northeast of the Municipality of Red Lake in northwestern Ontario and is situated within the Birch-Uchi Greenstone Belt. The large, open pittable resource is supported by significant infrastructure, including a 34-person onsite camp, winter road access, a logging road within 18 km of the camp, and nearby power lines within 40 km.
With 151 Mt at 0.94 g/t Au and 5.0 g/t Ag, totalling 4.6 million ounces of gold and 24.3 million ounces of silver in the Indicated Mineral Resource category, the Springpole Gold Project is one of the largest undeveloped gold projects in Ontario.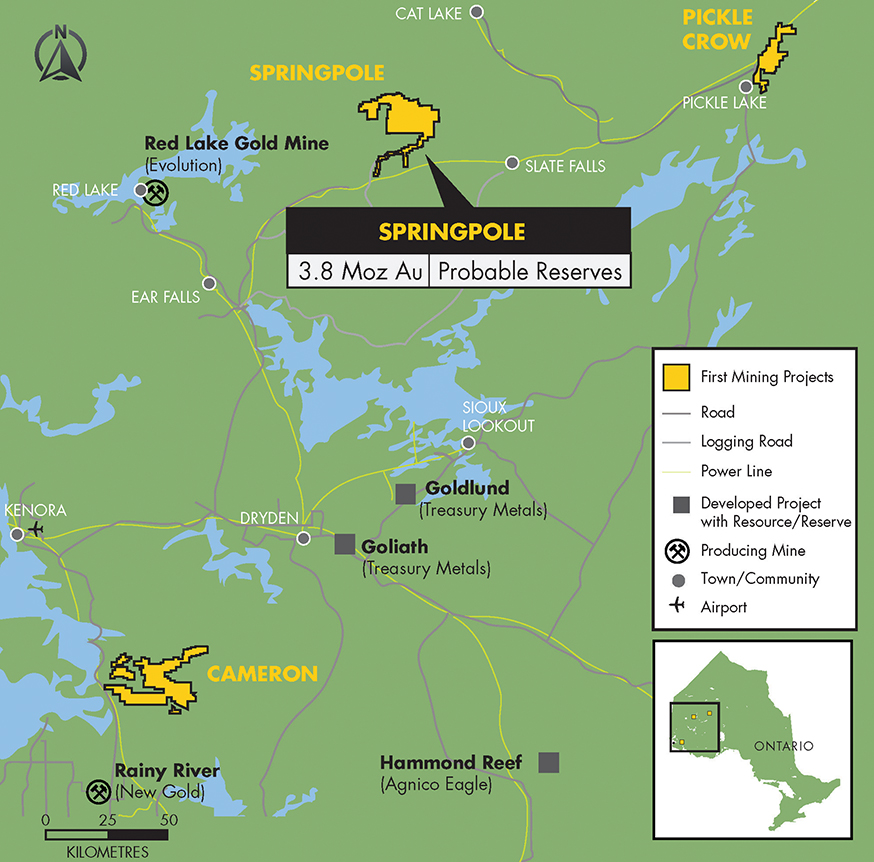 Project Highlights:
One of the largest, undeveloped, open-pit gold deposits in Canada

Reserves of 3.8 million ounces gold at 0.97 g/t, 20.5 million ounces of silver at 5.2 g/t
Average annual gold production of 335,000 ounces in years 1 through 9

Positive Economics, +11 year mine life

PFS announced January 2021, post-tax NPV5% of $995 million and post-tax IRR of 29%

Tier 1 Mining Jurisdiction

Long history of gold production in the area

Unique Strategic Gold Asset

One of the few projects in Canada able to produce more than 300,000 oz per year

Existing Infrastructure in Place

34-person exploration camp, winter road access, a logging road within 18 km of the camp, and nearby power lines within 40 km
2021 Pre-Feasibility Study (PFS) Highlights1):
The PFS contemplates an open pit mine and milling operation, evaluating recovery of gold and silver from a 30,000 tonne-per-day operation, with a process plant that includes crushing, grinding and flotation, with fine grinding of the flotation concentrate and agitated leaching of both the flotation concentrate and the flotation tails followed by a carbon-in-pulp recovery process to produce doré bullion.
The PFS report, entitled "NI 43-101 Technical Report and Pre-Feasibility Study on the Springpole Gold Project, Ontario, Canada" was prepared by AGP Mining Consultants Inc. ("AGP") in accordance with National Instrument 43-101 Standards of Disclosure for Mineral Projects ("NI 43-101") and has an effective date of January 20, 2021.
View the report here
Key PFS highlights include:
US$1.5 billion pre-tax net present value at a 5% discount rate ("NPV5%") at US$1,600/oz gold ("Au"), increasing to US$1.9 billion at US$1,800/oz Au
US$995 million after-tax NPV5% at US$1,600/oz Au, increasing to US$1.3 billion at US$1,800/oz Au
36.4% pre-tax internal rate of return ("IRR"); 29.4% after-tax IRR at US$1600/oz Au
Life of mine ("LOM") of 11.3 years, with primary mining and processing during the first 9 years and processing lower grade stockpiles for the balance of the mine life
After-tax payback of 2.4 years
Declaration of Mineral Reserves: Proven and Probable Reserves of 3.8 Moz Au, 20.5 Moz Ag (121.6 Mt at 0.97 g/t Au, 5.23 g/t Ag)
LOM metal recovered 3.2 Moz Au, 18.1 Moz Ag; 3.0 Moz Au (LOM), 16.1 Moz Ag (Years 1 to 9)
Initial capital costs estimated at US$718 million; Sustaining capital costs at US$55 million; plus another US$29 million in closure costs
Annual payable gold production of 335 koz (Years 1 to 9); 287 koz (LOM)
Low strip ratio of 2.22 to 1 (Years 1 to 9); 2.36 to 1 (LOM)
Mill head grade of 1.12 g/t Au and 5.7 g/t Ag (Years 1 to 9); 0.97 g/t Au and 5.2 g/t Ag (LOM)
Overall recoveries of 87% for gold and 90% for silver (Years 1 to 9); and 86% for gold and 90% for silver (LOM)
Total cash costs of US$558/oz (Years 1 to 9); and US$618/oz (LOM) (1)
All-in sustaining costs ("AISC") of US$577/oz (Years 1 to 9), and AISC US$645 (LOM) (2)
Note: Base case parameters assume a gold price of $1,600/oz and a silver price of $20/oz, and an exchange rate (C$ to US$) of 0.75. All currencies are reported in U.S. dollars unless otherwise specified. NPV calculated as of the commencement of construction and excludes all pre-construction costs.
(1) Cash costs consist of mining costs, processing costs, mine-level G&A, treatment and refining charges and royalties.
(2) AISC consists of cash costs plus sustaining and closure costs.
Springpole Mineral Resources (inclusive of Mineral Reserves)
Category

Tonnes (Mt)

Grade
Au (g/t)

Grade
Ag (g/t)

Contained Metal
Au (Moz)

Contained Metal
Ag (Moz)

Indicated

151

0.94

5.0

4.6

24.3

Inferred

16

0.54

2.8

0.3

1.4
Notes:
Mineral Resources that are not Mineral Reserves do not have demonstrated economic viability;
All figures are rounded to reflect the relative accuracy of the estimate. All composites have been capped where appropriate;
Mineral Resources potentially amenable to open pit mining are reported within an optimized constraining shell using the following parameters:

Metal prices of USS 1550 /oz gold, US$ 20/ oz silver, exchange rate of 0.77 USD:CAD
Mining cost of CAD$ 1.62 /t, processing cost of CAD$ 15.38 /t milled, G&A of CAD$ 1.00 /t milled
Pit slopes varying between 35 and 50 degrees depending on domain
Gold recovery of 88% and silver recovery of 93%

Mineral Resources are reported at a COG of 0.3 g/t gold.
The Mineral Reserves for Springpole are based on the conversion of Measured and Indicated resources within the current Springpole PFS pit design. The Springpole Gold Project Mineral Reserves are shown below:
Springpole Mineral Reserves
Category

Tonnes
(Mt)

Grade
Au (g/t)

Grade
Ag (g/t)

Contained Metal
Au (Moz)

Contained Metal
Ag (Moz)

Proven

0.0

0.0

0.0

0.0

0.0

Probable

121.6

0.97

5.23

3.8

20.5

Total

121.6

0.97

5.23

3.8

20.5
Notes:
This mineral reserve estimate has an effective date of December 30, 2020 and is based on the Mineral Resource estimate that has an effective date of July 30, 2020.
The mineral reserve estimate was completed under the supervision of Gordon Zurowski, P.Eng., of AGP Mining Consultants Inc., who is a Qualified Person as defined under NI 43-101.
Mineral reserves are stated within the final design pit based on a US$878/ounce gold price pit shell with a US$1,350 /ounce gold price for revenue.
The equivalent cut-off grade was 0.34 g/t Au for all pit phases.
The mining cost averaged CAD$ 2.75/tonne mined, processing cost averages CAD$ 14.50/tonne milled, and G&A cost averaged CAD$ 1.06/tonne milled. The process recovery for gold averaged 88% and the silver recovery was 93%. The exchange rate assumption applied was CAD$1.30 equal to US$1.00.
Indicated Mineral Resources in the mine plan were converted directly to Probable Mineral Reserves. There are currently no estimated Measured Mineral Resources and therefore there are no Proven Mineral Reserves.
Follow the link to our Environmental Assessment Portal for up to date detailed information regarding the permitting and engagement programs related to our Springpole Project.
PDAC 2021 Virtual Core Shack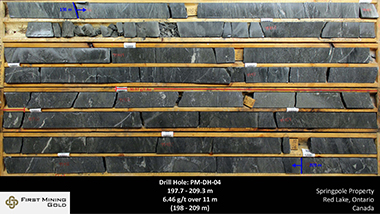 Video Gallery
Springpole Gold Project - Camp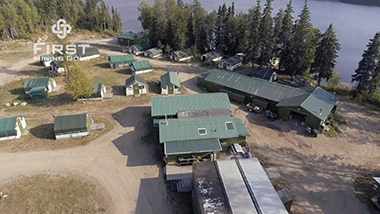 Springpole Drill Core Shacks
Springpole Gold Project- Aerial View Of Camp, Drill Core Shacks and Bay