Springpole Project
Project Overview
Environmental Assessments & Permitting
Technical Reports
Video and Photo Gallery
Overview:
| | |
| --- | --- |
| Location: | 110 km northeast of the town of Red Lake, Ontario, Canada |
| Area: | 41,943 hectares |
| Metals: | Gold-Silver |
On November 13, 2015, First Mining completed the acquisition of Gold Canyon Resources Inc., which wholly owns the Springpole Gold Project. Springpole is one of Canada's largest undeveloped gold projects with the property covering a land position totalling 41,943 hectares. The project is located in northwestern Ontario, approximately 110 kilometres northeast of the town of Red Lake, and is situated within the Birch-Uchi Greenstone Belt.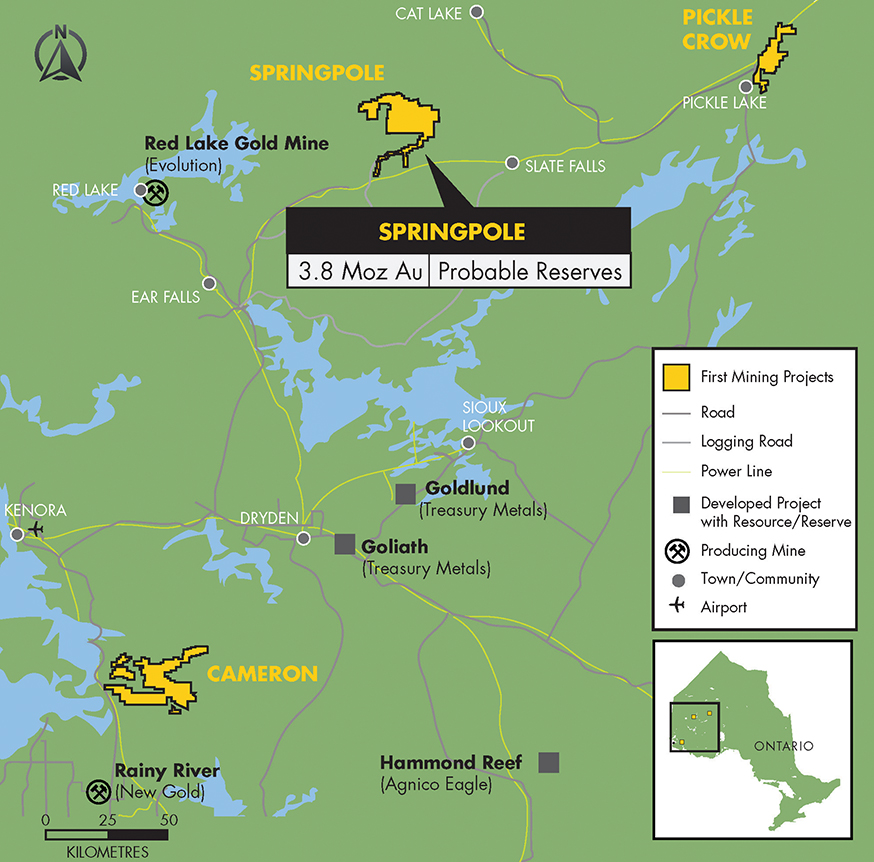 Project Highlights:
Large open-pittable resources and reserves:
Springpole Proven and Probable Reserves (effective December 30, 2020)
Proven and Probable Reserves: 121.6 Mt at 0.97 g/t Au, 5.23 g/t Ag containing 3,800,000 ounces of gold and 20,500,000 ounces of silver
Mineral Resources inclusive of Mineral Reserves (effective July 30, 2020)
Indicated Resource: 151 Mt at 0.94 g/t Au, 5.0 g/t Ag, containing 4,600,000 ounces of gold and 24,300,000 ounces of silver
Inferred Resource: 16 Mt at 0.54 g/t Au, 2.8 g/t Ag, containing 300,000 ounces of gold and 1,400,000 ounces of silver
Significant infrastructure in-place or proximal to project: 72-man camp onsite, winter road and fly-in access, logging road within 20 km of the camp
Project is located in a pro-mining jurisdiction within Treaty Nine and Treaty Three First Nations Agreement lands
Positive Pre-Feasibility Study ("PFS") completed in 2021, see news release dated January 20, 2021 for further details
2021 PFS Highlights(1):
The PFS contemplates an open pit mine and milling operation, evaluating recovery of gold and silver from a 30,000 tonne-per-day operation, with a process plant that includes crushing, grinding and flotation, with fine grinding of the flotation concentrate and agitated leaching of both the flotation concentrate and the flotation tails followed by a carbon-in-pulp recovery process to produce doré bullion.
Key PFS highlights include:
US$1.5 billion pre-tax NPV5% at US$1,600/oz gold, increasing to US$1.9 billion at US$1,800/oz
US$995 million after-tax NPV5% at US$1,600/oz gold, increasing to US$1.3 billion at US$1,800/oz
36.4% pre-tax IRR; 29.4% after-tax IRR at US$1600/oz gold
Life of mine ("LOM") of 11.3 years, with primary mining and processing during the first 9 years and processing lower grade stockpiles for the balance of the mine life
After-tax payback of 2.4 years
Declaration of Reserves: Proven and Probable Reserves of 3.8 Moz Au, 20.5 Moz Ag (121.6 MT at 0.97 g/t Au, 5.23 g/t Ag)
LOM Metal Recovered 3.2 Moz Au, 18.1 Moz Ag; 3.0 Moz Au, 16.1 Moz Ag (Year 1 to 9)
Initial capital costs estimated at US$718 million; Sustaining capital at US$55 million; plus another $29 million in closure costs
Annual payable gold production of 335 koz (Year 1 to 9); 287 koz (LOM)
Low strip ratio of 2.22 to 1 (Year 1 to 9); 2.36 to 1 (LOM)
Head grade of 1.12 g/t Au and 5.7 g/t Ag (Year 1 to 9); 0.97 g/t Au and 5.2 g/t Ag (LOM)
Recoveries of 87% for gold and 90% for silver (Year 1 to 9); 86% for gold and 90% for silver (LOM)
Total cash operating cost of US$558/oz (Year 1 to 9); US$618/oz (LOM)
AISC of US$577/oz (Year 1 to 9); AISC US$645 (LOM)
Note: Base case parameters assume a gold price of $1,600/oz and a silver price of $20/, and an exchange rate (C$ to US$) of 0.75. All currencies are reported in U.S. dollars unless otherwise specified. NPV calculated as of the commencement of construction and excludes all pre-construction costs.
(1) Cash costs consist of mining costs, processing costs, mine-level G&A, treatment and refining charges and royalties.
(2) AISC consists of cash costs plus sustaining and closure costs.
Springpole Mineral Resource Estimate for Gold and Silver at Cut-off Grade of 0.4 g/t Au(1)(2)(3)(4)(5):
Category

Tonnes (Mt)

Grade
Au (g/t)

Grade
Ag (g/t)

Contained Metal
Au (Moz)

Contained Metal
Ag (Moz)

Indicated

151

0.94

5.0

4.6

24.3

Inferred

16

0.54

2.8

0.3

1.4
Notes:
Mineral Resources that are not Mineral Reserves do not have demonstrated economic viability;
All figures are rounded to reflect the relative accuracy of the estimate. All composites have been capped where appropriate;
Open pit mineral resources are reported within an optimized constraining shell using the following parameters:

Metal prices of USS 1550 /oz gold, US$ 20/ oz silver, exchange rate of 0.77 USD:CAD
Mining cost of CAD$ 1.62 /t, processing cost of CAD$ 15.38 /t milled, G&A of CAD$ 1.00 /t milled
Pit slopes varying between 35 and 50 degrees depending on domain
Gold recovery of 88% and silver recovery of 93%

Open Pit resources are reported at a COG of 0.3 g/t gold.
The Mineral Reserves for Springpole are based on the conversion of Measured and Indicated resources within the current Springpole pit design. The Springpole Gold Project Mineral Reserves are shown below:
Springpole Proven and Probable Reserves (effective December 30, 2020)
Category

Tonnes
(Mt)

Grade
Au (g/t)

Grade
Ag (g/t)

Contained Metal
Au (Moz)

Contained Metal
Ag (Moz)

Proven

0.0

0.0

0.0

0.0

0.0

Probable

121.6

0.97

5.23

3.8

20.5

Total

121.6

0.97

5.23

3.8

20.5
Note: This mineral reserve estimate is as of December 30, 2020 and is based on the new mineral resource estimate dated July 30, 2020. The mineral reserve calculation was completed under the supervision of Gordon Zurowski, P.Eng of AGP Mining Consultants Inc., who is a Qualified Person as defined under NI 43-101. Mineral reserves are stated within the final design pit based on a US$878/ounce gold price pit shell with a US$1,350 /ounce gold price for revenue. The equivalent cut-off grade was 0.34 g/t Au for all pit phases. The mining cost averaged CAD$ 1.94/tonne mined, processing averages CAD$ 14.50/tonne milled, and G&A was CAD$ 1.06/tonne milled. The process recovery for gold averaged 88% and the silver recovery was 93%. The exchange rate assumption applied was CAD$1.30 equal to US$1.00.
Permitting Roadmap
First Mining has begun consultation efforts with local Indigenous communities within the Springpole Gold Project area to support the federal Environmental Assessment (EA) process which was initiated in March 2018. These consultation efforts with Indigenous communities will be ongoing throughout the EA process, including consultation with local municipalities, government agencies, non-governmental organizations and other stakeholders.

In parallel with the federal EA process, First Mining has also entered into a Voluntary Agreement with the Ontario Ministry of the Environment and Climate Change ("MOECC") for Springpole and thus initiating an individual provincial EA under the Ontario Environmental Assessment Act. Terms of Reference ("ToR") for the provincial EA are being prepared and will be submitted to MOECC for review prior to the end of 2018.

The ToR determines the scope of the provincial EA and what alternatives must be assessed as well as environmental aspects that could be impacted by the Project that the provincial EA must consider.