San Ricardo
Overview:
| | |
| --- | --- |
| Location: | North-central Sonora, 145 km south-southeast of Nogales at the US border. |
| Area: | 37,400 hectares (374 square km) |
| Metals: | Gold |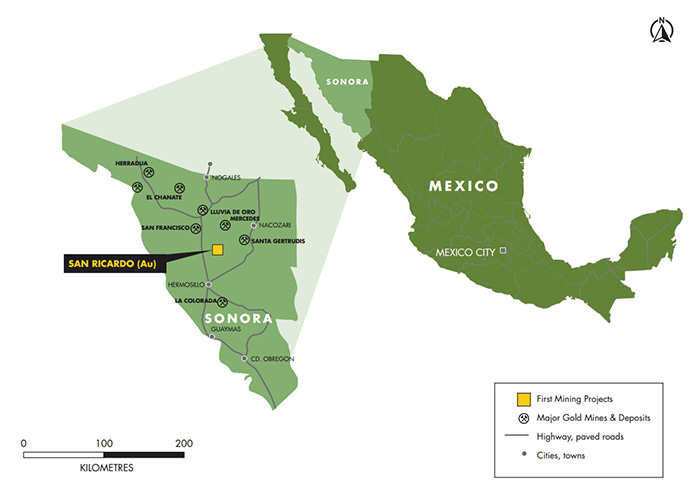 Project Highlights:
The San Ricardo property consists of nine claims, 100% owned by the Company, two of which; San Ricardo and San Ricardo 2, cover 50 hectares on an existing small mine that was acquired by the Company through an option agreement in 2013, The remaining seven claims: Teocuitla, Teocuitla 2, Teocuitla 4, Angel, Tlaloc, Tlaloc 2 and Aztlan cover 37,350 hectares, and were staked by the Company between 2009 and 2011.

All underground workings on the San Ricardo vein system were opened up and saw sampled, and several hundred metres of trenches were excavated and sampled. Subsequently, 14 diamond drill-holes were drilled in the property to test two veins, the Santa Cruz and Mina Antigua, at shallow levels. Drill results in the Santa Cruz vein varied from minor precious metal mineralization to 2.3 m at 23.1 gpt Au, whereas the Mina Antigua vein contained 4.5 m at 100.4 gpt Ag.

The mineralization on the property is epithermal in nature and has not been constrained along strike or depth by drilling.